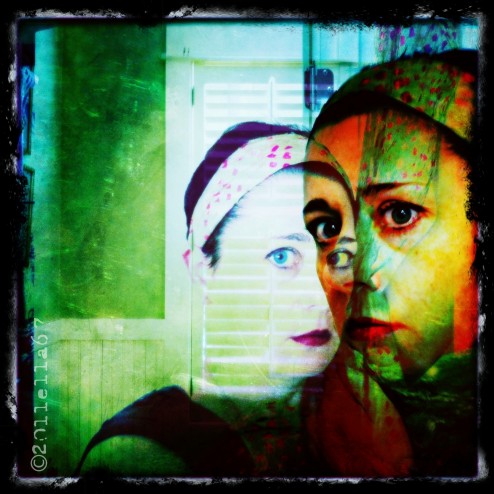 Artist's Statement
In the past, the majority of my work dealt with themes of family, dreams, remembrance and self.  They were very personal explorations of identity.  I used images from my childhood and of my family (parents, grandparents in their younger lives) as a starting point.  I typically layered these photos, by way of a slide projector, onto present day objects, and then re-photographed them.  They were images made with a 35mm camera and film, processed in a darkroom, printed large and usually toned.  It was something I enjoyed, but it took quite a bit of time, money and effort to set up, shoot, develop the film, print by hand, tone and, eventually, frame.  When I became a mom, I discovered I no longer had the time, nor the creative energy, to continue doing that work.
In August of 2010 I got my first iPhone.  It was an unexpected gift from my husband and I immediately noticed it took exceptionally great digital photographs, better than any of my previous point and shoot digital cameras.  I found myself taking photos for fun, not just to document the family birthdays or celebrations.  My artistic self was fully reawakened when a friend showed me the iPhone photography app/social media site Instagram.  Suddenly I was linked to other photographers around the world, many of who were making incredible artwork with their phone!  I had found a community of artists who not only inspired me to create; they also became loyal supporters of my work.  The exciting thing was, I could create images with such complexity anywhere, and all in the palm of my hand.  I could share them instantly, with like-minded artists, for immediate feedback!  I was reborn as an artist!!
Layers have always been a part of my work; whether they are reflections on glass, slide projector images or multiple exposures (darkroom or camera).  So it was only natural that once I discovered I could make multiple exposure images with my iPhone that I found a new passion.  The images in "dreamings" category are linked together by style and mood.  Many were taken on trips near (my room), far (Tuscany, Maui) and in-between (LaConner, Cashmere).  But all were taken with an intuitive sense of what would work with other images to make a new way of seeing.  These combinations are playful, colorful, dreamy and emotionally evocative.  All images were taken and processed only on my iPhone4.  I welcome you to step into my world….